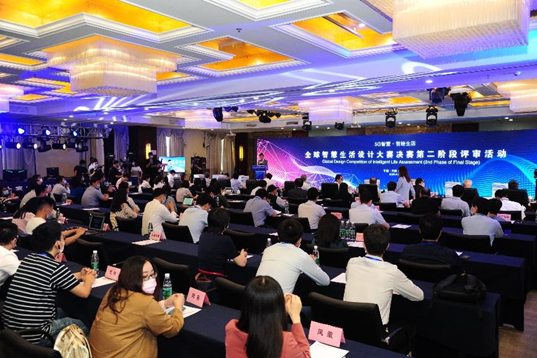 A few days ago, the second round of "Global Design Competition of Intelligent Life" Final embraced a successful close.
Wu Hequan, academician of the Chinese Academy of Engineering, expert in optical fiber transmission network and broadband information network, as well as chairman of the review committee, attended the final and delivered a speech. Jin Huijiang, deputy Party secretary of Jinghai District Committee and chief of Jinghai District People's Government of Tianjin, PRC, together with deputy chief Zhang Bingzhu attended the final on behalf of the sponsors. Nine senior academicians and experts composed the review committee, namely Tang Kai, Chen Xiangfu, Zhao Xiaofan, Peng Gongbing, Mao Qizhi, Ji Hengkuan, Zhang Hui, Li Xiaodong and Arnaud Dauvillier. Twelve teams at home and abroad, including Huawei, Jingdong Cloud, Tencent, Kingsoft Cloud, Haier and Gree, as well as Insigma, Nokia, Japan Pacific Consultants, RhineScheme GmbH and Archiland, jointly demonstrated a sparkling interaction between intelligent technology and community life on their roadshow at the second round of final.
Through integrating such advanced digital technologies as 5G, artificial intelligence and Internet of Things into their designs, the contestants at the final shared their thoughts and creative ideas about smart community and proposed solutions in turn via sand table, presentation board, video, etc. to convey the design concepts of "green, sharing, interconnection and innovation". The experts listened carefully, inquired seriously, and expressed their opinions and suggestions on the shortlisted designs.
With the joint efforts of nearly a hundred institutions, twelve superior participating consortia and more than forty top enterprises concerned, "Global Design Competition of Intelligent Life", dedicated to the profound interaction between 5G and smart life, concluded with winners after thirty-four top experts' professional review of the collected designs in seven months three times. As the underlying assets of this competition, Jinghai Intelligent Industrial Park is regarded as a pacesetter for innovation in Tianjin and Xiong'an, intelligence center in North China and the core area for developing intelligent technology industry in Jinghai District. The first-rate projects found in this competition appear to be implemented in Jinghai Intelligent Industrial Park to contribute to the upcoming smart life in Jinghai.
Disclaimer: The views, suggestions, and opinions expressed here are the sole responsibility of the experts. No The Daily News Journal journalist was involved in the writing and production of this article.